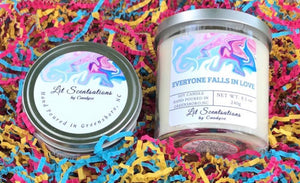 This Lit Scent has an island flare.  The Caribbean Teakwood scent reminds of a man's cologne.
Top Notes: Peppercorn, Ginger, Spice
Middle Notes: Tobacco Leaf, Teakwood
Base Notes: Sandalwood, Amber, Dark Musk
Approx. 40-50HR Burn Time (10 oz Jar)
Approx. 20-30HR Burn Time (8 oz Tin)
Approx. 4-6HR Burn Time per cube (Wax Melts) *Tealight burners and Electric burners may vary when it comes to hot scent throw* 

*Disclaimer: Jars and tins may not come exactly as pictured. The color of the jars and/or tins are subject to change, but the sizes will remain the same.